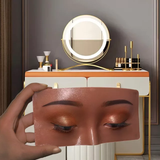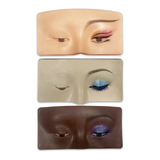 Face mold for makeup practice
Meekasho have something instore for you.
Real skin texture: special textured bionic silicone material simulates human skin. You can even see the 'pores' on the skin
• Multiple-purpose: For practicing makeup skills, lash extensions and microblading skills, and training.
2: For camera-shy makeup artists: this is your perfect replica for makeup. Show your makeup skills and looks without having to show your face;
3:For makeup artists with skin issues: use this bionic skin to reduce the damage to your skin when you want to show many makeups looks.
4:For makeup artists without models: this practice skin helps you practice on this realistic human face. You can practice for as many times as you wish, without worrying about not having enough models.
5: For lash and brow stylists: no more big, heavy mannequin heads. This lightweight and portable practice face is easy to carry and allows you to put it into your bag and practice anytime and anywhere.
6:Saves money: Reusable by removing the makeup with remover oils or olive oils for next use.
How To Use It
1:Apply foundation on the practice skin first before putting on makeup on it.
2: It's recommended to apply eyeshadow with fingers to get better pigment attachment.
3: Clean the practice skin with olive oil or makeup removal oils after each use.
4: When putting on faux lashes, wait for 30 seconds after applying lash glue, otherwise the faux lashes won't attach well on silicone material.